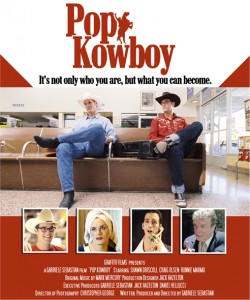 Starring Shawn Driscoll (Thirteen Days, Red State, America's Sweethearts), Ronnie Marmo (GENERAL HOSPITAL), Craig Olsen, and Ron Hunter (Van Wilder, Along Came Polly). The lives of a transvestite, an aspiring gangster, and a wannabe cowboy become entangled in this new comedy.
Pony enjoys old cowboy movies. In fact, he's obsessed. He dreams of a world where he can live like the stars he sees on the silver screen, taking out bad guys, and saving the girl, and riding off in the sunset. Unfortunately, he looks more like a joke and less like a real cowboy, and no one takes him seriously. If only there was a girl in distress who he could save.
Frankie is a singer, dancer, and aspires to be the best woman she can be. Unfortunately she's trapped in a man's body. In order to live her dream out she needs to get some money, but can't come up with a good plan, until a friend suggests doing a small drop-off job for the mafia. Despite her initial hesitation, she goes along with it. Hoping that this one job will set her on the track she needs to be.
Scheduled to pick up the drop-off is Vinnie, a screw-up gangster who's down to his last chance. Though his assignment is an easy one, he's adept to making mistakes, as well as excuses, but he's running out of luck. Basically, if he fails this mission, his job isn't just on the line, so is his life.
When Pony tries to help Frankie by returning her lost briefcase, unaware that it's actually the drop-off, the lives of these three characters come together. Mistakes are made, lives are changed, and everyone gets into trouble. Will Pony get a chance at being a real cowboy? Will Frankie get a chance at becoming a real woman? And will Vinnie finally do his job right, or end up swimming with the fishes? Find out in "Pop Kowboy", available exclusively at the World Wide Motion Pictures Corporation Movie Store.